One of the hardest times to stay lean and strong is during the time frame from Halloween through New Years.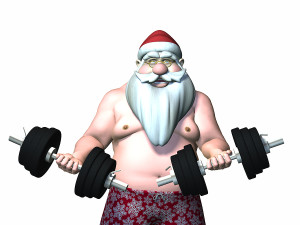 So even though we can get so busy with preparations, shopping, parties and celebrations, and we find ourselves putting our clean eating and fitness program on hold, it's important to have a strategy to keep things in check.
It's really easy to get caught up in the traditions, and those traditions are usually the ones that feel and taste SO good, but in the end undo the hard work we do all year.
What comes next is pretty much common sense, but without forethought and planning its highly likely that a slip or MORE will happen.
10 Tips For Staying Lean and Strong for the Holidays
1. Eat a healthy, filling, clean snack before heading out to holiday parties. Make sure you have good fat like avos and coconut.
2. Enlist the help of an accountability partner. Come up with a plan that includes a friend that keeps you on track together.
3. Schedule your Crossfit workouts ahead of time, write them on your calendar. This will help you make it a non-negotiable time in your day and there will be less of a chance of scheduling something else at that time. If you anticipate having to attend school functions and think they may get into your way, then make sure you reschedule your workouts.
4. Avoid the seasonal crap food. Don't shop in the center of the store, and stay with the fresh, healthy food.
5. Google search recipes with Almond Flour and Coconut Flour and agave nectar instead of the usual wheat flour and granulated sugar to make your holiday favorite treats.
6. Set a goal to do 100 of something a day. Sit ups, push-ups, Burpees, Squats, Step-Ups on benches or boxes, lunges etc.
7. Have trigger ready foods available, foods that will help you to hold off a craving.  Healthy, low sugar chocolate, cut up veggies, nut and seed packs, beef jerky, avocado are all good choices to have with you.
8. Plan meals weekly, and cook ahead if possible. I like to make a few different salads and keep them in the refrigerator in case I get hungry and I need something quickly.
9. Stay away from bread, cupcakes, cookies, chips,candy, pasta, rice, potatoes, fries, rolls as much as humanly possible. It can be tough, especially as the weather turns colder and we crave comfort type foods. Make a big pot of meat and veggies chili to have on hand instead.
10. Drink plenty of water. Even as parties, try to alternate between a libation and a serving of water. This will keep full, and less affected  by the alcohol which will keep your ability to resist temptation.
Bonus Tip
11. Go find some fun outdoor activities- bike rides, snowball fights, have a game night, have friends over who share your dedication to clean eating and living.
The holidays are not a time to let up on your progress! Staying the course is done by using the tips and having a plan to execute!
You can stay
LEAN, STRONG, HEALTHY
Through out the holiday season!
Anne (Annie) Berryhill is a Crossfit Level 1 Trainer, USA Weightlifting Sports Performance Coach, Crossfit Athlete and competitor who owns and operates OC Fitness Revival in Orange County, CA.   Her services include personal and group training, nutrition classes and counseling. As well as providing incredible health-improving supplementsto help people  to make the most out of what they've got.
Are you a Crossfit Trainer? Do you want to earn more doing what you love? Annie has a limited number of spots for her Trainer Mentorship Program to help you build your brand, your reach and your bank account.