Workout Recovery

by Annie Berryhill

Ever find yourself doing day after day of hard workouts? About day 3, it seems all the movements and motions catch up to me, sometimes its the very next day! I don't know what age you are, but I know that being in your 40's as I am, does make focused, regular and deliberate recovery activities absolutely essential. You may have been doing some of them already yourself, but in case you missed any, here are some tips and tricks along with some links to resources to help you to get back into action at full speed quickly!
1. Foam Rolling/SMR (Self-Myofacial Release)- It is a great idea to do this not only when you are working to recover, but as part of your warm up. I find that it makes it easy to do by getting to the gym 10-15 minutes early and roll around getting loose with my classmates.
If you have never done foam rolling (SMR) before, Click on the link to connect to Jeff Alexander of Network Fitness 's resources. He teaches classes to athletes and Crossfitters all around the country. He has some great new tools too like The Rumble Roller (that I have ordered but need to pick up!)

Kelly Starrett of CFSF is a Physical Therapist who has short videos of recovery and therapy stretches and movements too.
2. Get your Fish Oil! It's a well known fact that fish oil reduces inflammation. Inflammation can lead to instability and that just sucks. There are quite a few brand floating around the CF community- Stronger, Faster, Healthier (liquid) Moxxor- Green Lipped Mussel(capsule), Barleans (flavored liquid). It all just depends on how well you tolerate the different formats. There are TONS of articles about Fish oil and recovery. Check out Robb Wolf's site for science and understanding.
3. Ice- Yep, sometimes the oldies are the goodies! It may not be a bruise or a lump, but there can be inflammation that needs to be tackled from the inside and the outside to speed healing. Using full, frozen Dixie cups to move the cold around, or ice packs or even ice baths are all useful tools. You don't need to be a pro to use ice!
4. ART- Active Release Technique- Dr. Glass of Competitive Edge Chiro is the Dr. who treats me with the specialized form of Soft-Tissue Therapy. I find that it really works to get things "unstuck" and moving properly again in very few visits. Maybe it's just because he is so good at it, or maybe because the technique is really effective, either way, I make it a point to have him treat my ailing areas a minimum of 2xs a month.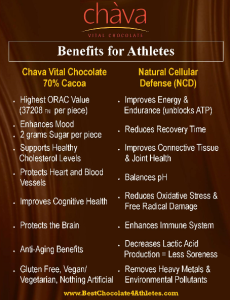 5. Chava Chocolate– Huh, wait, WHAT?? Yes, I am suggesting Dark, Healthy Chocolate as part of your Recovery Strategy. Dark Chocolate on its own has tons of studies to show what it can do to help the body recover. But Chava chocolate has an ingredient no other chocolate in the world contains, Natural Cellular Defense. This natural substance has been studied and in addition to being Anti-Viral, Anti-Fungal and Anti-Bacterial, it also has been shown to aid in recovery for athletes. It's now contained in the worlds most perfect, delicious delievery system-CHOCOLATE! The testimonials are amazing! Watch them here! You'll be surprised who you see talking about Chava !!
6. Rest. Yep, I know these are fighting words for some but I truly believe that performance and rest go hand in hand. The trick is to find the balance between them and understand the symptoms of over training:
Failure to complete regular workouts




Losing leanness though you are exercising more




Everything hurts frequently




Increased frequency of illness




Sleep is difficult-feeling wired




Feeling Depressed, sluggish



It is vitally important that you take the time to rest, restore and let your body rebuild. Then, you will be able to make the strength, speed, and stamina gains you are working for!
So there you have it … my favorite tips, tricks and tools for effective workout recovery !!

Why not get a head start with YOUR recovery strategy and order some Chava today?

Who wouldn't want to be able to train longer and better with less downtime? All I know is that Chava makes a big difference for me and alot of other athletes. Why not for you too? Just do it … you can thank me later …
Click HERE To Order Your Chava Today!!
Anne (Annie) Berryhill is a Crossfit Level 1 Trainer, athlete and competitor who owns and operates OC Fitness Revival in Orange County, CA. Services include personal and group training, nutrition classes and counseling and she teaches people how to get the most out of what they've got. Contact her today for a class visit or nutrition consultation
(949) 280-3407 Anne@anneberryhill.com