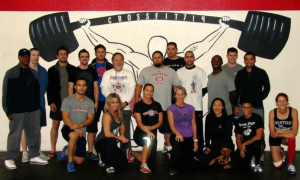 Athletic Backgound and Crossfit, Who's Got The Advantage?

by Annie Berryhill
Its been such a blast to be around so many different people who are Crossfitters lately. With the Sectional WODs, the SoCal Elite League, Sic Fit visiting So Cal, the NLI and local affiliate challenges, it is an amazing gathering of athletes from different backgrounds and different skill levels.
So it got me thinking. What are some of the common threads to the naturally talented Crossfit Athletes? Who speeds through the learning curve the fastest? I think there are some patterns, but I wanted to see if we could uncover it using information not just observation.
Is it Football players, Soccer players, runners, triathletes, gymnasts? Who?
In order to satisfy my curiosity and possibly yours as well, take a minute to check out the little survey I created to help us all get a better understanding. I will report back after a week or so of saturating Social Media with this request to participate. So if you can help me get to more people participating in the survey by "liking" this post on FaceBook which in turn shares it with your friends, it should help to get a much broader report.
In the end, it's really more about fun than serious research, and the results will probably make you go "Hmmm" rather then bend your brain. It is in no way designed to qualify or deter ANYONE from doing Crossfit because at its core, Crossfit is a Fitness program built into a competitive sport. So anyone can do it!
==>> Click here to take survey <<==

Anne (Annie) Berryhill is a Crossfit Level 1 Trainer, athlete and competitor who owns and operates OC Fitness Revival in Orange County, CA. Services include personal and group training, nutrition classes and counseling and she teaches people how to get the most out of what they've got.
Contact her today for a class visit or nutrition consultation
(949) 280-3407 Anne@anneberryhill.com