Crossfit Training Workouts and Injuries -What to do if it Happens to You!
It's pretty inevitable..getting injured in Crossfit training workouts. Its not always all Crossfit's fault. We are humans performing constantly varied, functional movements at high intensity. Sometimes, this stuff  ( movement standards, focus, grip) just gets away from us. Personally, I have become used to pushing through pain. And have learned to be more and more comfortable being uncomfortable in the context of doing Crossfit WODs.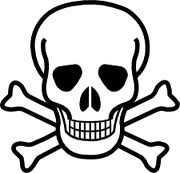 Many outsiders argue that this one thing in particular is what makes Crossfit workouts so dangerous. I disagree. What has the potential to make Crossfit training workouts dangerous is inadequate coaching, and uncoachable, stubborn people. The constant factor here is people. Crossfit is hard. Harder than probably anything most of us have done prior to this. But this is what makes it so effective. It's the new places in our strength, fitness, belief, skills, attitude that we discover, develop and use that contribute to growth.
But, let's say you encounter an injury. Not the kind you can ice that evening and come pack the next day and work through. What if you get a strain, a sprain, a case of tendinitis? Those types of injuries are not usually so clear cut in terms of how or to what degree you alter your cross fit workouts. Let's face it, no one wants to miss out, and potentially fall behind and that oftentimes makes us do stupid things. That one smallish injury that we maybe should rest for a few days, maybe get some chiropractic or medical treatment for, has the potential to become a larger set back if we don't listen to the warning signs. How do I know?…Here is my story…
Crossfit didn't bust my ass, working online did…
I have been planning since early 2011 to move the majority of my coaching business online. My husband is a manager in the LA Dodgers organization and it is likely that he will be managing in a far away place for 6 months of the 2012 season. In anticipation, I have worked many hours getting my web presence established. This required countless hours of sitting, designing, writing, communicating and learning online. Let me stress..LOTS OF SITTING! I was doing my 5 days a week of Crossfit training workouts faithfully the whole time.

In early July, I noticed that my glutes always felt like I did a butt-load of lunges. They were always sore, right near my sits bones. I just kept thinking that I was doing stuff to make that sore, and went on my way.  I kept rolling with my roller, and seeing my Sports Chiro to help me out, but nothing really got better.

Then in early September, I was doing DL's at 165ish and as I was coming out of it, I heard a huge POP. And felt a searing pain from my butt down through my hamstring. Yeeeouch! I laid off the DLs and just went easy on the rest of the WOD. It held up okay. Over the course of the next 3 weeks, it happened a couple more times. Once coming out of a handstand (weird). And the other time doing Box Squats. It was so persistent and strange. I HAD to figure out what was really going on.
I scoured all my anatomy books, and online to look to see what hardware and software could possibly be involved. Here is what I discovered: I had BURSITIS in my BUTT! 

Reading on, I surmised that it was most likely due to ALL THAT SITTING!
How ironic that I do a sport every day that, many people consider to be SO DANGEROUS…and

I injured myself from SITTING!
 UGH! What a waste, it's not even a cool story!
Now I am looking at altered WODs, Physical Therapy 3 xs a week, and the slow train to my goals.
There are lessons here to learn from my injury for sure:
1. Listen to your body. If something doesn't feel right, pay attention to it. Inflammation like bursitis and tendinitis are sneaky, but if left unchecked, it can lead to weakness and imbalances that will lead to worse injuries.
2. Rest if that is what is prescribed. I have to be okay with this and so do you. While it's true that it may set you back in many areas of Crossfit, it's not a death sentence, there are much worse things to do.
3. Rest is good, but don't turn into a couch potato. And use it as an excuse to unplug (unless that's what is necessary). One woman I trained with broke her ankle on a Thursday coming off a rope climb, got a cast and was back at Crossfit training  workouts the next week. No she couldn't do everything, but by golly she did what she could. Currently, I personally do a ton of weighted upper body and core….that will help me in the long run for sure.
4. Get your mind off of it, do something else that is fun. If the only thing you do for fun is Crossfit training workouts, then you have waaaaay bigger issues than your injury. Go and do something else. Get a fresh perspective as a bonus. And come back healed and ready to do what you love to do!
Injuries large and small are always a part of fitness and sport…especially when you combine the 2 as we do in Crossfit. Don't sit around waiting for it to happen. But don't be stupid if it does. You only get one body. And it is your job to take the best care of it so that your time here is up before your body wears out!
Whether you need a fresh start, or specific, personal training in Crossfit, Nutrition or maintaining a proper mindset, I am the coach who specializes in getting you from here to your goals!
Anne (Annie) Berryhill is a Crossfit Level 1 Trainer, USA Weightlifting Sports Performance Coach, Crossfit Athlete and competitor who owns and operates OC Fitness Revival in Orange County, CA.   Services include personal and group training, nutrition classes and counseling. As well as providing incredible health-improving supplements to help people  to make the most out of what they've got.
Contact her today for a Free class,   Nutrition consultation       or to try Chava Chocolate