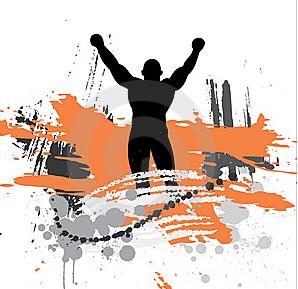 How To Give Yourself Permission To Be A Champion

by Annie Berryhill
There is so much skill, talent, heart, involved in being a champion. People say they want to be a champion, but few have the fortitude, the natural gifts and access to coaching that they need to get to the top of the podium. Being a Champion is so elusive, the circle is a very small one.
So what is it about being a winner that is different from being a champion? The 2011 Reebok Crossfit Games crowned only a few champions, but in the end, the whole group of them were winners.
Crosfitters are a breed of people who love to win, to crush the competition in the moment. Really, why do these things if you are not going for the "W", right? But that goal exists in many people, not just athletes.
So we dream, scheme, plan, talk about strategy, execute and tweak until we have reached our pinnacle. But then, we don't advance and seemingly our dreams are put out. What do we do? How do we go on?
The revelation hit me this weekend as I spoke with coaches from a variety of specialties in the Crossfit Community. The athletes that were there had given themselves 100% permission to win.
Does that sound kind of funny to you too? The realization I had was this: I have never done more than visualize and dream about winning and being a Champion. I needed to go the next step and give myself PERMISSION to go beyond.
In Order To Give Yourself Permission To Win
… To Be Champion You MUST…

1. STOP looking for reasons that you would not qualify to be a Champion. Things like, not being strong, fast, tall, quick enough. Many physical issues can be improved and overcome with work, dedication and focus. But in order to get there, the excuses and seeds of doubt must be dumped in the trash and left there.
2. STOP worrying about what people would say or how you would be treated differently. This looks a little bit like Fear of Rejection AND Fear of Success at the same time. I used to worry that if I had all my wildest dreams come true, that somehow in that I would lose the my family somehow, like I would be so successful I would just leave them in the dust. That lead me to hold back, to death grip the safety line. Going for it is scary, its ALWAYS outside where you have ever been before. Expect and plan for that … but keep going. Expect that the spoils of being a Champion will only enhance the life you have now.
3. STOP putting it off. There is never a better time to to start giving yourself permission to be a champion than right now. Say it out loud, write it down, repeat it to yourself everyday, multiple times a day. I promise that your attitude and expectations of yourself and your performance will shift.
4. STOP listening to the Dream-Stealers: You know who they are. Champions surround themselves with realistic, supportive people who will sow into their dreams and belief and confirm permission to dominate. Kick the other people to the curb, figuratively speaking of course (physically only if you must)!
5. STOP repeating the same bad habits. There is that saying "If it aint broke, don't fix it." But if it is broke, get the repairman out PRONTO! Fix whatever it is that is stopping you from being a Champion in your life or business. It may be your system, your mindset, your ability … whatever it is, find the solution and keep moving forward.
How about you? Are you ready for your Championship season?
Let me be your partner in the pursuit of your goals!

You are DESIGNED to live
LEAN – STRONG – HEALTHY!

Today is a good day to get started
Anne (Annie) Berryhill is a Crossfit Level 1 Trainer, USA Weightlifting Sports Perfomance Coach, Crossfit Athlete and competitor who owns and operates OC Fitness Revival in Orange County, CA. Services include personal and group training, nutrition classes and counseling, as well as providing incredible health-improving supplements to help people to make the most out of what they've got.

Contact her today for a Free class, Nutrition consultation or to try Chava Chocolate for Athletes!

(949) 280-3407 Anne@anneberryhill.com