Thanksgiving is coming up quick and if you are stumped about how to maintain your Paleo lifestyle and eating plan while faced with hazardous traditional food here are some easy, Paleo Thanksgiving Makeovers
Before you finish your preparation shopping, consider using these recipes instead of the usual, gonna-make-your-belly-fat and feel-like-crap afterward fare.
 Paleo Thanksgiving Makeovers
Sweet Potato Pie:
Usually so overdone with sugar, sugar and more sugar, this yummy change will help you be healthy, and guilt-free.
3 Ingredient Sweet Potato Pie
Sweet Potato pie is a delicious part of the traditional dinner, and this simple recipe will keep you away from the problems of too much sugar and fake stuff.
Thanks to Supersellen for the recipe!
            Paleo-Style Stuffing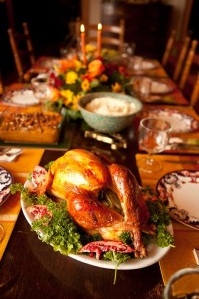 My favorite part of Thanksgiving is the stuffing.I am not sure if its the bready taste or the semi-crunchy celery and onions, but it is the one thing I am hopelessly weak in avoiding.
Fortunately, the folks at Paleo Comfort Foods have come up with a yummy way to still enjoy stuffing with no of the regret!
Grab the Recipe off their site HERE!
Health Cranberry Sauce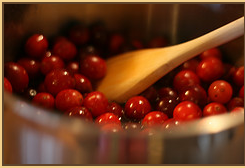 It's always been pretty traditional around my family to use the good-old canned variety of cranberry sauce. Aside from the dangerous plastics lining the can, the cranberries can have added sugars a less-than-fresh origin.
The folks over at The Paleo Diet Lifestyle have a ton of yummy recipes over at their site.
Click Here for their Cranberry Sauce Recipe
Additional Resource
I couldn't let you go back to your Thanksgiving preparations without telling you about my friend George's amazing blog,
 Civilized Caveman Cooking
George is an amazing cook, photographer and all around good guy (a great catch for someone!)
So, it is possible with proper planning and homework to stay with your Paleo eating program. Yeah, there will be temptation, and you may even give in a little. But if the majority of your meal is done "right" the little cheats may not hurt you that much! Its all about being intentional about what you are going to do before the opportunities to fall off present themselves!
Happy Thanksgiving to all!
Be sure and share your Paleo Recipes and Resources in the comments below! Let me know if you try these and how they turn out!
P.S If you need some help moving over to a Paleo-style or clean living nutrition program, contact me to get dialed in!
Anne (Annie) Berryhill is a Crossfit Level 1 Trainer, USA Weightlifting Sports Performance Coach, Crossfit Athlete and competitor who owns and operates OC Fitness Revival in Orange County, CA.   Her services include personal and group training, nutrition classes and counseling. As well as providing incredible health-improving supplements to help people  to make the most out of what they've got.